By Eddie Trizzino | Times West Virginian October 7, 2020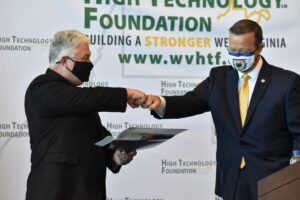 High Technology Foundation President and CEO Jim Estep, left, fist bumps Kris Warner, of the USDA, after receiving a $50,000 grant from the federal agency on Tuesday.
PHOTO BY EDDIE TRIZZINOFAIRMONT — The High Technology Foundation is built on the mission of recruiting federal agencies to create a base in Marion County to perform operations in, which in turn, will diversify the local economy.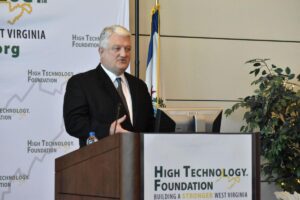 Foundation President Jim Estep researches what some of these federal agencies are looking for in a community to do new business in, and tries to fill those needs to lure agencies here.
"The approach that we want to follow is typically called a reverse site analysis," Estep said. "You go across a group of targeted — in this case federal operations — that you want to try to recruit, and you find out what are some of the needs and requirements of that particular group."
The High Technology Foundation has received financial aid through the U.S. Department of Agriculture to help bolster its efforts in luring federal agencies here. On Tuesday, Kris Warner, West Virginia state director of the USDA, announced a $50,000 grant for the High Technology Foundation to use in its mission of development.
"Funding is always one of those challenges you need to overcome because we are a private organization," Estep said. "One of the agencies who has consistently and repeatedly been there for us is the U.S Department of Agriculture."
The USDA has awarded the High Technology Foundation with grant money in the past to fund the same mission. Warner said it is important for organizations like this to get funding because it benefits the entire state.
"The West Virginia High Tech Foundation is creating a road map, and to do that, look at how they're going to attract other businesses to West Virginia, they have to look at their strengths and weaknesses within the park," Warner said. "Those technical-oriented businesses that want to do business with federal agencies have the opportunity to locate in this park surrounding the community, and this grant is going to help further that effort."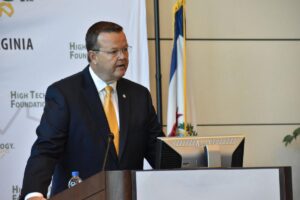 Warner also agreed that the work the High Technology Foundation does is helpful to established businesses as well, because development of the economy helps to build a bigger customer base.
"You have to have a business case," Warner said. "You can have a beautiful setting on top of a mountain like this in a great community, but if you don't have a business case, most businesses can't make money, they're not going to locate here in West Virginia."
Estep said in a speech at the conference that the I-79 Park is a tool for local economic development because of what it brings and has brought to the area.
"We're developing the I-79 Technology Park as a tool to recruit federal operations to the region so we can leverage the enormous contracting they do to create a business base to make companies want to come," Estep said. "We are also, of course, trying to recruit workforce to help those companies that come through to chase the work grow."In his own speech at the conference, Warner said the development of rural West Virginia is good for the country as a whole.
"When rural West Virginia thrives, all of America thrives," Warner said. "I'm honored to be able to announce a $50,000 Rural Business Development grant to the West Virginia High Tech Foundation."
According to Estep, the High Technology Foundation is at a point in development where it can either level out its contribution to the state, or continue to help it grow. The grant money will go a long way toward making sure the organization can continue its development and be a asset to West Virginia in recruiting new companies to the state.
"We're at a pivotal time here in West Virginia," Estep said. "Some of the decisions that we're making, some of the efforts we are pursuing is not only going to help the stability, but it's also going to define whether or not we can have that common prosperity in the future."
Email Eddie Trizzino at [email protected] and follow him on Twitter at @eddietimeswv.