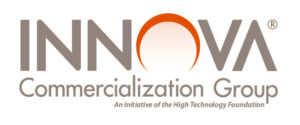 The INNOVA Commercialization Group (INNOVA), an initiative of the High Technology Foundation, is a business support services and seed and early-stage investment capital program dedicated to creating successful entrepreneurs and new ventures. INNOVA specializes in bringing vital knowledge and resources to seed and early-stage companies in support of product commercialization efforts. Although INNOVA's primary focus is on the geographic region of West Virginia, INNOVA can bring expertise to almost any project. INNOVA offers its clients a unique understanding of the challenges facing seed and early-stage companies. In order to overcome these challenges, INNOVA has developed a portfolio of offerings designed specifically for commercialization and start-up companies. This assistance includes business support and technical services, seed and early-stage funding and entrepreneurial education and training. The INNOVA team members, with their diverse business backgrounds, bring a toolkit of resources and contacts to each new client. Many of these services are delivered directly by the INNOVA team and are tailored to meet the needs of each client.  In addition, INNOVA can utilize a pool of financial resources to assist qualifying clients with business support services performed by regional accounting and legal firms, as well as other consultative services, as needed. INNOVA will also work with qualifying companies to provide assistance in applying for federally sponsored Small Business Innovative Research (SBIR) grants.
In addition, INNOVA manages a growing seed stage capital investment fund. The INNOVA commercialization team seeks out early-stage West Virginia based product-oriented companies in which it can place equity or near-equity investments. Such investments are used to prepare growing companies for future venture capital investments.
Finally, INNOVA sponsors and delivers entrepreneurial education, training and networking events. These events are designed to provide entrepreneurs with the tools necessary to start and grow their businesses.
With its complete set of resources, knowledge, experience and contacts, the INNOVA team offers a unique toolkit of resources to meet the needs and challenges faced by seed and early-stage companies.
INNOVA's highlights to-date include:
INNOVA has worked with more than 500 companies and entrepreneurs seeking commercialization assistance to include strategic planning, technical or professional assistance and/or financial provision;

INNOVA has placed over $3.9 million dollars of direct investments into 28 West Virginia companies, some of which have already exited the investments and others who have raised significant additional capital since INNOVA's "seed" funding;

Of the most recent 18 companies receiving funding from INNOVA, 15 companies attracted an additional $6,658,000 in follow-on investment. On average, for every $1 dollar invested by INNOVA these companies were able to attract an additional $2.23 in follow-on funding, including venture capital attracted from out of state.
INNOVA has become recognized as a primary source of seed capital in the state of West Virginia by business and community leaders.
For more information, contact INNOVA
Spurring entrepreneurialism and innovation is critical to driving the economic diversification necessary to overcome the impacts of the decline in coal across the State of West Virginia. However, early-stage entrepreneurs in West Virginia currently lack a clear pathway and support system to help guide them from conceptualization to market entry. West Virginia's three leading entrepreneurship support organizations – TechConnectWV, the INNOVA Commercialization group, and the WV Jobs Investment Trust – are launching the"3 Steps to Start-up" program, which will provide early-stage entrepreneurs with critical assistance and a structured, modular map for moving forward from conceptualization through market entry. The goal of the program is to enhance the startup pipeline and accelerate the development, job creation, investment and market introduction of new companies in West Virginia. The "3 Steps to Start-up"project will strengthen the existing resources available to entrepreneurs and fill in the gaps with new resources to establish a strategic and functional pathway of support, available to all start-ups and small businesses. 

This project builds upon an existing collaboration between TechConnectWV, INNOVA, and WV Jobs Investment Trust that already operates programs with a significant return on investment. This project will scale these successful initiatives and structure them together to provide a faster, more effective, and broader-reaching program. With increased collaboration at every stage, the initiative will help move entrepreneurs from idea to commercialization to investment more efficiently, generating more startups positioned for success in West Virginia.
Project Region: The"3 Steps to Start-up" program will serve entrepreneurs statewide in West Virginia, focusing on 42 of the 55 counties, representing a wide range of economic conditions. While a few counties are showing growth, the majority are struggling in the wake of declining energy markets and the sudden loss of coal mining jobs in the last five years—especially in the southern coalfields, where significant expansion of the"3 Steps to Start-up" program will be focused. Importantly, this 40-county area also contains many of the region's key assets and is thus critical for spurring investment, innovation, and job creation—not only in those areas but across the entire region.  Focusing on these 42 counties will enable this ecosystem to leverage the existing strengths and build upon the support systems for entrepreneurialism already established.
The"3 Steps to Start-up" program is one of 54 investments totaling $44.4 million via ARC's POWER (Partnerships for Opportunity and Workforce and Economic Revitalization) Initiative, a congressionally funded opportunity targeting federal resources to help communities and regions that have been affected by job losses in coal mining, coal power plant operations, and coal-related supply chain industries due to the changing economics of America's energy production. Additional support for this program is provided by the Claude Worthington Benedum Foundation.
"I congratulate the INNOVA Commercialization Group for being an FY 2019 POWER grantee and commend them on the leadership they have shown in their community," said ARC Federal Co-Chairman Tim Thomas. "POWER grants are playing a critical role in supporting coal-impacted communities in the Appalachian Region as they diversify economies, invest in growth-oriented infrastructure, train a next-generation workforce, and ingrain resiliency and hope into their local fabric. Projects like this help ensure a prosperous future for Appalachia."
"The Benedum Foundation is pleased to be a funding partner with ARC for the "3 Steps to Start-up" program which builds upon the work of these collaborating organizations to identify innovators and help them become entrepreneurs who build new businesses and create high quality jobs which grow West Virginia's knowledge economy" said  Mary Hunt, Program Director, Community and Economic Development, of the Claude Worthington Benedum Foundation.