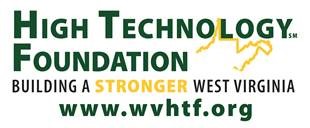 High Technology Foundation Announces
New Board Members:  Rebecca R. McPhail and Holly C. Kauffman
FAIRMONT, WV — December 4, 2019 — The High Technology Foundation has announced the election of the newest members of its Board of Directors, Rebecca R. McPhail and Holly C. Kauffman.
"We are both honored and fortunate to have two of West Virginia's strongest business leaders join our Board of Directors.  Their respective engagement brings unique and valuable insights to the mission of the High Technology Foundation regarding two of West Virginia's industrial sectors, namely, manufacturing and energy. As with virtually every industrial sector, technology is disrupting and redefining both manufacturing and energy.  To the extent we can leverage technology or the knowledge sector to reinvigorate West Virginia's manufacturing and energy sectors, we can perhaps "leap-frog" to the front of the economic pack," said James L. Estep, President and CEO.
Rebecca R. McPhail is president of the West Virginia Manufacturers Association (WVMA), the largest business and trade organization representing the manufacturing industry in the Mountain State.  As president, Ms. McPhail is the voice for manufacturers with state and federal regulators and elected leaders, advocating for policies and partnerships that encourage economic investment and manufacturing growth in West Virginia.
Before joining the WVMA in 2013, Ms. McPhail was president and CEO of Vision Shared Inc., a statewide economic development organization. A West Virginia native, Ms. McPhail spent time working as a grant development and research manager and interim director of development for the YMCA of Greater Cleveland in Cleveland, Ohio, before returning home in 2003 to join the Marshall University Foundation staff.
Among her many professional responsibilities, Ms. McPhail is a member of the West Virginia Department of Environmental Protection Advisory Council; she is a member of the West Virginia University Stadler College of Engineering and Mineral Sciences Advisory Board; and she serves on the boards of the West Virginia Symphony, YMCA of the Kanawha Valley and University of Charleston.
Ms. McPhail graduated from the West Virginia University Institute of Technology in 1996 and was Alumni of the Year by her alma mater in 2019.  She is also a 2012 graduate of Leadership West Virginia and was named a 2017 Young Gun by West Virginia Executive magazine.  She resides in Charleston, W.Va., with her husband David Yaussy, and two sons, Garrett and Owen.
Holly C. Kauffman is president, West Virginia Operations for FirstEnergy, which includes the Mon Power service territory and oversight of the West Virginia portion of Potomac Edison. Her office is in Fairmont, W.Va., and she is a resident of Morgantown, W.Va.
In addition to the High Technology Foundation, Ms. Kauffman serves on the board of directors for the West Virginia Chamber of Commerce, the West Virginia Roundtable, Leadership West Virginia, and is past president of the United Way of Marion County Board of Directors.  In 2017, she was appointed by the Governor of West Virginia to the Pierpont Community & Technical College Board of Governors and serves on the Executive and Presidential Evaluation Committees.  She also serves on the advisory board to the West Virginia University Master of Science Program in Energy Environments.
Ms. Kauffman joined Allegheny Energy in 1984. Allegheny Energy merged with FirstEnergy in 2011. After becoming a supervisor in 1988, she held various leadership positions. She was Vice President of Operations for Jersey Central Power & Light before being named to her current position in October 2012.
Ms. Kauffman earned a Master of Science degree in industrial engineering from the University of Pittsburgh, an MBA from Duquesne University, and a bachelor's degree in computer science from Penn State University.
Ms. Kauffman has received the 2012 Pittsburgh Business Times Women in Business Award; the 2015 Marion County Chamber of Commerce Women's Achievement Award; 2015 United Way of Marion County Jack Squires Award for community service; the 2016 West Virginia Executive magazine Sharpshooter Award, and in 2017, was named one of West Virginia's 10 Most Influential People by NCWV Life magazine.
Ms. McPhail and Ms. Kauffman will join the current members of the High Technology Foundation Board – Chairman Dr. Frank W. Blake, Michael I. Green, Michael J. Basile, Esquire, William P. (Pat) Getty, and James L. Estep.
ABOUT THE HIGH TECHNOLOGY FOUNDATION
The High Technology Foundation is a 501(c)(3) non-profit organization based in Fairmont, W.Va., functioning as an engine of economic change for growing a statewide and regional high-tech business sector.  The Foundation has established a multi-faceted approach to maximize economic growth, including emphasis on business infrastructure, research and development, and commercialization and workforce development.
# # #
 Media Contact: Lori Rhoades / 304.333.6814 / [email protected]