by John Mark Shaver FAIRMONT NEWS EDITOR Mar 6, 2022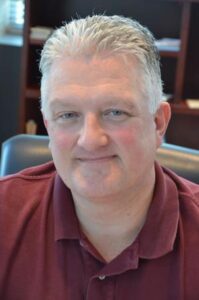 FAIRMONT — The High Technology Foundation is continuing its mission to expand the I-79 High Technology Park into unused plats of the organization's property, and officials look forward to making strides in that development this year.
An access road to Phase III of the park has already been built, and while there are currently no official plans to build new facilities on the parcels of land for which this road has made way.  The I-79 High Technology Park is located just off Interstate 79 in Marion County.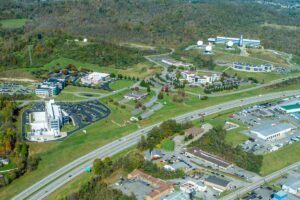 n the parcels of land for which this road has made way, High Technology Foundation President and CEO Jim Estep said infrastructure work at the park's new land will continue this year.
"We are currently working very closely with the West Virginia Development Office to pull together funding that will allow us to install some fiber
(internet cables) with a very high capacity in the park that could potentially link NOAA's operations both with some commercial cloud service providers and companies," Estep said. "If we can secure that funding, then I'm hoping that late summer or early fall, we may begin the process of actually installing that fiber in the park so we can begin to go to that next level in terms of taking advantage of the economic opportunity."
Estep said the foundation is also working with the West Virginia Development Office and West Virginia University to expand the pipeline of cybersecurity and data science workers in state, two careers that Estep predicts will be much-needed at the park in the very near future.
"We're putting in place these pieces for us to be positioned to take advantage of the commercial climate and weather industry, and both cybersecurity jobs and data science jobs are going to be critical ingredients to that opportunity," Estep said. "We need to be proactive and work on that workforce pipeline now so that we can try to have everything coalesce at the right time."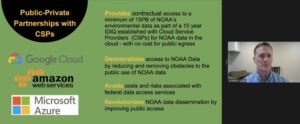 In 2021, Estep and the High Technology Foundation hosted a virtual event called "Beyond the Cloud," which focused on opportunities for companies to store or use weather data collected by NOAA, which already has an outpost at the park.
"Private companies take that data and do things with it and sell it, but anybody in that sector is going to tell you that getting access to that data and working with that data is pretty challenging," he said in 2021. "NOAA and the U.S. Commerce Department believe that they can make double from this private climate and weather sector if they created a way where people, and entrepreneurs especially, could get access to data much more easily."
Estep said he believes the foundation has an "above average" chance to succeed in its climate and weather data goals.
However, while the expansion of the climate and weather data industry is one of Estep's biggest goals, it isn't the only thing on which he and his team are working.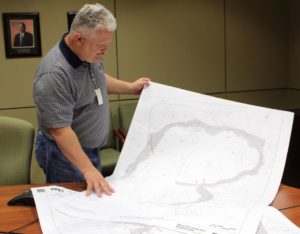 As part of the development of Phase III, Estep hopes to attract federal agencies to North Central West Virginia by offering them free parcels of land. While he noted that he can't discuss which agencies the foundation is currently courting, he did say that the organization has a partner in the effort, with the two institutions working together to bring more federal anchors to the Mountain State.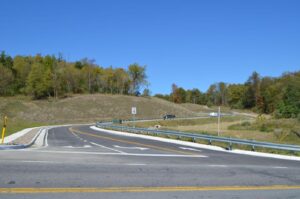 "We're continuing our partnership with the West Virginia Regional Technology Park, specifically working very closely with Dave Hendrickson, chairman of the board with the park, and Matt Ballard, president and CEO of the park," Estep said. "We want to jointly collaborate on the recruitment of federal operations. That has been progressing very well. I feel like we're getting great momentum. …
"We've really started to get some traction. These things aren't done quickly. These take time, but I feel like we're much better positioned now thanks to that partnership and the West Virginia Development Office than we've ever been in taking advantage of some of these opportunities."
Estep has long pushed for the idea of increasing West Virginia's prosperity through expanding the technology and knowledge sector across the state, and he believes that through projects like Phase III of the High Technology Park and the expansion of the climate and weather data industry, that dream can become a reality.
"In my opinion, the West Virginia economy has been handicapped by the fact that we have not built into our workforce demographic enough jobs that require higher educational attainment," Estep said. "The fact of the matter is it's a critical ingredient to a healthy economy, and we've failed miserably in that regard. Part of it is not enough investment in the knowledge sector. Part of it is the stereotype that this state has been saddled with forever. It's like an anchor around our necks, and it takes that much more effort to take a step because of that anchor. …
"We've got to shed it, and we've got to do things that put down strong, fundamental building blocks for the new economy, and the way you do that is aggressively pursuing these big things that have economic relevance but also have tremendous economic potential that will bring in industry. That, really, to me, has to be our guiding principle going forward."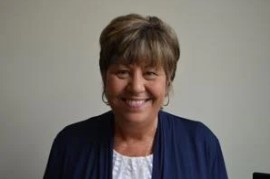 Marion County Chamber of Commerce President Tina Shaw said that she sees big things in the High Technology Foundation's future, and she's glad that an organization like that has made such deep investments into the county and region.
"That park is still our crown jewel, and people from all over the state envy us because of that park," Shaw said. "There is a lot of growth still ahead for the park, and I think that there is a lot of opportunity for business growth in the park. Everybody that's there has been very happy."
Overall, Estep said he's optimistic about the High Technology Foundation's future, and he's looking forward to starting and completing more exciting projects in the near future.
"I'm feeling good about both the projects that we're currently pursuing and the ones we have in the pipeline," Estep said. "They're really going to take us to the next level in the next couple of years, and I'm really excited about that."
Fairmont News Editor John Mark Shaver can be reached at 304-844-8485 or [email protected].
Article as originally published by the STATE JOURNAL on Mar 6, 2022