Take Me Home Country Roads convention highlights reasons to invest in W.Va.
by Conor Griffith BUSINESS EDITOR Apr 17, 2019
MORGANTOWN — North Central West Virginia's economic potential, as well as its challenges, were discussed Wednesday during the second Take Me Home Country Roads Conference.
The event was organized by the Morgantown Area Chamber of Commerce in conjunction with the Pittsburgh Chapter of the Society of Professional Services.
The conference was part networking, part luncheon and part panel presentation, which was followed by a question-and-answer session moderated by Morgantown Chamber President Stephen LaCagnin.
With about 135 participants, this year's conference had double the attendance of last year's, LaCagnin said.
He also made a case for why companies from Western Pennsylvania should consider the Interstate 79 corridor from Pittsburgh all the way down to Clarksburg.
"We're building upon success," LaCagnin said. "It speaks volumes to people on what this area has as far as its future — it's a great future. Everybody wants to see this area get to the full potential that it has."
With formation of the Morgantown Area Partnership, all of Monongalia County's economic development agencies will be operating on the same page, which sends a signal of purpose and coordination that business interests and government agencies look for when deciding where to locate, he said.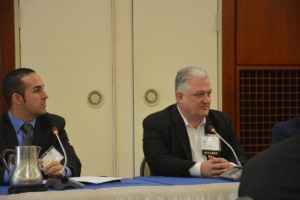 James Estep, president of the West Virginia High Technology Foundation, said more operations by the federal government are making their way to the I-79 Technology Park, such as NASA cybersecurity and NOAA supercomputers.
Government operations often contract with private technology companies such as Leidos, which creates an economic ripple effect, he said, citing Leidos' investing more heavily in Monongalia County.
Estep said geography also plays in West Virginia's favor as Northern Virginia and Western Maryland become over-crowded. That trend isn't going to stop any time soon, especially with Amazon's decision to locate one of its new headquarters in Crystal City, Virginia, he said.
"The cost of operations there has become astronomical. It just doesn't make business sense to stay there," Estep said, referring to Northern Virginia.
He noted there are national security concerns about having too much federal activity in a small area. That also could be to NCWV's benefit.
"It can be transformative not only economically but cement in place a knowledge sector that could be an example for the whole country," he said.
Mark J. Nesselroad, chief operating officer of Glenmark Holding, said there has been plenty of economic activity to drive growth in the region over the past few years.
That activity includes more events at Mylan Park, expansion of services at WVU Medicine, retail development in Westover and Bridgeport, Longview Power's addition of solar and natural gas components at its coal plant and plans for a natural-gas-fired power plant in Harrison County.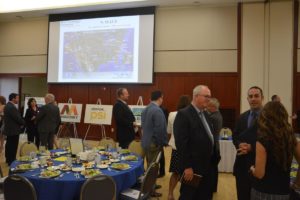 John Thompson, associate director of design and construction services for WVU, said the university has spent about $800 million on construction projects since 2012. The rate of construction work at WVU is starting to slow down, but university construction tends to be cyclical like that, he said.
But he noted that WVU construction projects worth about $200 million will go forward over the next two to three years. About half of that dollar amount will go to a new riverfront building housing the John Chambers College of Business and Economics.
As for regional investment, Brandon Mendoza, executive director of the Pittsburgh chapter of NAIOP, the Commercial Real Estate Development Association, said the area around that city is seeing some of the strongest growth in years but is still far from where it wants to be when compared to other major cities.
Pittsburgh too has seen the value in attracting federal functions such as the National Energy Technology Laboratory, which has sites near the Steel City and Morgantown.
Over the years, a knowledge- sector industry that includes universities, private industry and government labs has taken root along the I-79 corridor, and Mendoza said that could be the key for further growth.
"Per capita, we punch way above our weight class with about $1.1 billion in research and development," he said. "We need to make sure we use our R&D as an asset for recruiting."
Still, there are challenges.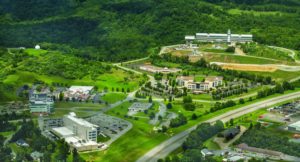 Thompson said it's getting harder to find construction workers because of work on a new polyethylene cracker plant in Western Pennsylvania and other ongoing projects.
Nesselroad stressed the importance of agencies and governments working together toward the same goal rather than competing. He also advised aligning permitting processes and taxes in order to avoid situations where city and county administrations are competing against one another to secure new development.
Estep said adequate infrastructure remains a long-term obstacle in NCWV, noting the lack of workers for Division of Highways road projects.
He also said the number of workers leaving the state is a problem, saying more needs to be done in recruitment, especially in the knowledge sector.
Estep said the FBI and I-79 Technology Park combined have many job openings. While they try to recruit from nearby universities, only about 15-25 percent of the jobs can be filled by new graduates. Workers with experience also are needed.
Business Editor Conor Griffith can be reached by at 304-395-3168 or by email at [email protected]