by John Mark Shaver EDITOR, January 15, 2019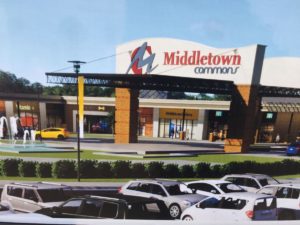 WHITE HALL — Between construction on the Middletown Commons, a new Tax Increment Financing District and Phase III of development at the I-79 Technology Park, 2019 is set to be a big year for White Hall and the surrounding area in Marion County.
While White Hall officials are already deep into work on a new public safety building and potential annexations, the upcoming developments will breathe new life into the town, according to Mayor Guy Ward. Ward said work is already being done to the Middletown Mall to prepare it for redevelopment, even though it doesn't look like much yet.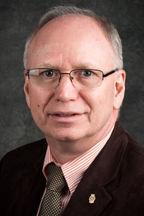 "Things are happening right now. You just can't see it because a lot of the engineers are in there looking things over and doing drawings and things," Ward said. "I figure as soon as the spring rolls around, we'll see a lot more activity as far as construction and stuff goes. … In two years, it'll look like a brand new structure."
Ward isn't the only Marion County official excited about the work being done at the mall. Marion County Chamber of Commerce President Tina Shaw said development of that piece of land is crucial to the county's economic success. She commended General Acquisitions LLC, the mall's new owner, for investing in Fairmont and Whitehall.
"The fact that they're engaged with the town of White Hall and other businesses out there really gives me an optimistic view," Shaw said. "South Fairmont is going to grow whether we like it or not. It's just a growing area, and the Middletown Commons is the perfect area for business and retail."
However, the Middletown Commons isn't the only project coming down the pipeline. Only a minute or so down the road, the High Technology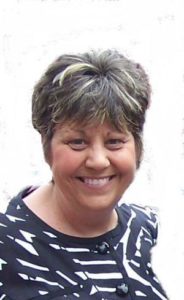 Foundation is beginning Phase III of development at the I-79 High Technology Park, which officials hope will bring in more federal anchors.
"I've said this over and over, but it's the crown jewel of Marion County," Shaw said. "There is so much potential in that park for great jobs and to bring people to Marion County and to bring our young talent that last left back home."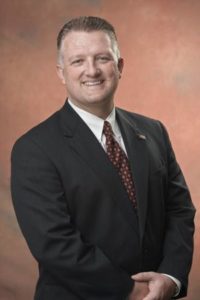 High Technology Foundation President and CEO Jim Estep explained that the new phase will build a road onto previously unused land owned by the foundation. Once the road is built, the land will be offered free of charge to federal anchors in an attempt to be more competitive with other knowledge sectors in the region.
"It's important that we have the funding to do it, because that creates new building pads that we can then offer for free to federal operations we're trying to recruit," Estep said. "We hope the combination of free land and the existing federal operations and infrastructure that we've built here over the last several years makes a very attractive offering to those operations we're hoping to bring in."
Estep said that Phase III has been in the works for quite a while, and since the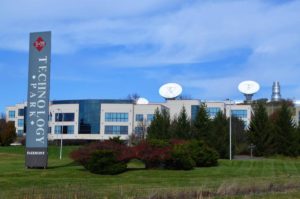 foundation's bankruptcy was dismissed early last year, the foundation finally has the ability to spend its time and resources on the road's development.
"We've spent the last three years fine tuning the detailed plans of how we wanted the road system to go through that phase, where we wanted the utilities and all of that stuff," Estep said. "It takes a long time to put all of that in place. We spent this year putting those permits in place, and we hope to put bids out (this month) for a contractor to start developing the road."
Both of these projects are supplemented by the town's upcoming TIF district, which will encompass both the mall area and the technology park.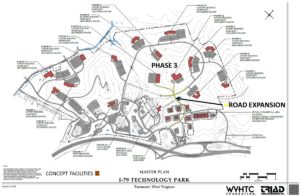 TIF districts spur commercial and private development by splitting the revenue from property tax within the district into two pools of money. The base revenue tax is the amount of money that a property tax generates before the TIF district is enacted.
However, any revenue that exceeds the base amount is defined as incremental revenue and flows directly to the government that sponsors the TIF district. That money is then used on infrastructure improvements in said district, which Ward said is very attractive to businesses.
"Businesses want to come and be a part of it because they know this money is going to stay here in the TIF district," Ward said. "If they buy a piece of property for $100,000 and they develop it and it's now worth $1 million, (taxes from) that extra $900,000 go into TIF funding and it stays here in the district. The county or municipality can't take that money and use it somewhere else."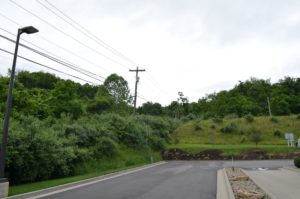 While all of these projects won't necessarily be completed in 2019, they'll all be well on their way by the end of the year, and Shaw said that it's something to be very excited about.
"I think all of Marion County should be excited by the growth that's happening in South Fairmont," Shaw said. "Everybody will benefit from the changes at the Middletown Commons along with the growth at the High Tech Park. There will be so many more job opportunities, and the TIF district will bring it all together."
EDITOR'S NOTE: This is the second of three stories that will highlight upcoming developments and plans in the Greater Fairmont area throughout 2019.
Staff writer John Mark Shaver can be reached at 304-844-8485 or [email protected].
Article originally published by The Fairmont post on January 15, 2019