---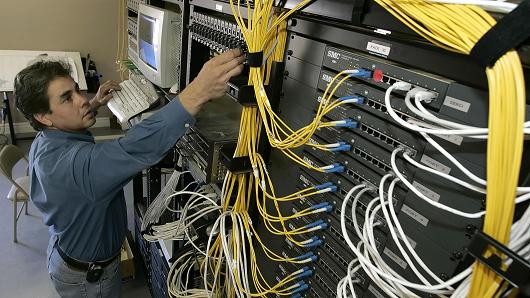 Getty Images
America's Office of Management and Budget was aiming to to save $2.7 billion in technology costs by the end of the year — but amid a sizeable shortfall, agencies are looking at adopting more cloud contracts instead.
Bean-counters have been trying to get the government to cut down for years on investing in new servers for its technology operations. But as of the end of this year, only four government agencies are on track to meet all the goals needed to cut costs, the Government Accountability Office said this week.
That means that while the government was budgeted to save $2.7 billion over the past two years, it could save only about $1.62 billion, the GAO report said.
Although some government agencies use as little as 5 percent of their server space, the government's use of data centers has exploded: the federal government went from 2,094 data centers in July 2010 to 12,062 in August 2017, the report said. Across the federal government, that adds up to about 150,000 servers.
Of the over 12,000 data centers identified last year, about 5,800 were successfully closed and 1,400 were planned for closure. But many remaining agencies have given up on meeting their closure goals — of 81 recommendations established in 2016 and 2017, 74 have not been "fully addressed," the government watchdog said.
"It can cost money to migrate current solutions to new platforms, and it's not always easy to simply turn out the lights in a data center, even if it is slated for closure," IDC analyst Shawn McCarthy wrote of the program.
To make up the difference, the U.S. Agency for International Development said it was exploring new cloud services, which budgeters say are more efficient. The Canadian federal government, for example, has 43 agencies, 700 data centers running roughly 14,000 applications, but is in the process of adopting Amazon's cloud services.
But in the U.S., despite government technology offered by Amazon, Microsoft, IBM and others, it's been a struggle. Federal information officers told Gartner last year that the pressure to optimize costs might be forcing the government to miss other "digital opportunities."
While moving away from data centers will reduce labor and power costs, spending on data centers will still grow, IDC estimates, despite "unprecedented pressure to move quickly" toward digital transformation.
"Investments in big data are increasing because government agencies want ever-more data to analyze, and they have more data gathering resources to do so. That, in turn, is prompting increased investment in data collection, storage, and associated processing," McCarthy wrote. Separately, he added: "We believe it will be highly challenging for agencies to meet their goals with these types of spending patterns, and that will make for an interesting Fiscal Year 2018."
---
Originally posted on CNBC.com