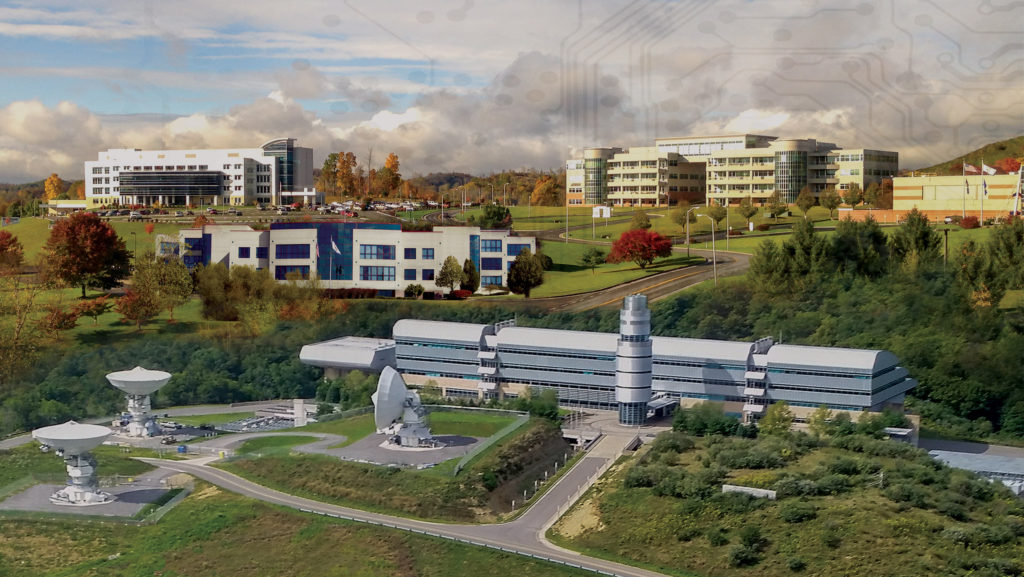 The I-79 Technology Park is located within the heart of the I-79 High Technology Corridor just south of Fairmont, West Virginia. The location of the I-79 Technology Park places it within one day's drive of 60% of the U.S. population and some of the Nation's largest cities including New York, Boston, Washington, Chicago, Atlanta, Charlotte, Philadelphia, Baltimore, Pittsburgh and Indianapolis.
The I-79 Technology Park includes 400+ acres divided into four contiguous phases. Over 750,000 square feet of world-class office and data center space has been constructed so far, and several hundred thousand additional square feet are currently underway. The I-79 Technology Park is proud to be home to over 30 businesses with approximately 1,000 employees. These businesses include CSRA, Electronic Warfare Associates, Inc., FirstEnergy Corp., Leidos, ManTech International Corporation, Northrop Grumman, Spectrum, TRAX International Corporation, Healthcare Management Solutions LLC, and the National White Collar Crime Center. The I-79 Technology Park is also proud to be home to several federal programs including the National Oceanic and Atmospheric Administration (NOAA), National Aeronautics and Space Administration (NASA) and the Federal Bureau of Investigation (FBI). The I-79 Technology Park is also home to the West Virginia Community and Technical College System's North Central Advanced Technology Center (ATC) bringing a valuable academic component to the I-79 Technology Park community.
Thanks to years of careful planning and strategic investments, the I-79 Technology Park is fast becoming one of the premier science and technology hubs in the United States.  A strategic alignment of both infrastructure and tenant recruitment has been key to this success.
The development approach followed by the management of the I-79 Technology Park is straightforward and focuses on the basics.  Fundamentally, a prospective tenant will be driven by a "business case" when choosing new locations.  In the case of the I-79 Technology Park, there is a deliberate focus on the recruitment of federal programs to serve as "park anchors" that will attract contractors.  This focus has evolved over the last decade and has gained a bigger emphasis in part because of the expanding federal requirements to "decentralize" government operations in the Washington, D.C. area.  This "business requirement" has created opportunities for areas such as Fairmont to diversify its economic landscape by attracting federal programs with substantive budgets to set up operations.  This is key because not only do these activities provide local jobs, they typically provide contracting opportunities.  These contracting opportunities attract businesses to the area that want to bid on them.  Moreover, opportunity is created for small and start-up businesses either as subcontractors or direct service providers.  It follows that, as local bidding opportunities expand, the business population expands.  As the business population expands, the workforce expands.  As the workforce expands, the economy grows and local innovation begins to blossom.  Leveraging federal operations to create a business case that can drive the establishment of a sustainable "business ecosystem" is the ultimate goal for the I-79 Technology Park.
A solid business strategy is the first critical path item for success, but isn't enough on its own.  Once the business strategy is established, other critical path items must be effectively addressed.  "Location, location, location" is certainly an applicable refrain to the growth of the I-79 Technology Park.  Many government officials who worry about the decentralization requirements will tell you that they need to be away from the greater D.C. area, but not "too far away."  If one considers potential locations away from D.C. that aren't "too far away," then North Central West Virginia becomes a prime location.  The highway and airplane access from North Central West Virginia make it easy to travel back and forth from D.C. in one day.
By contrast, consideration of locations north or south of D.C. within this same range introduces concerns with hurricanes, tornados, heavy population densities and expensive coastal and metropolitan real estate prices.   The Appalachian Mountains provide a nice barrier from many natural disasters, and the region's real estate market is much cheaper.  Population density has unfortunately become an issue now that the threat of possible large scale terrorist attacks exists.  There must be consideration given to what would happen if something bad were to occur in the D.C. and northern Virginia area.  It is likely the case that mass evacuation would flood the regions within at least 150 miles of D.C., putting a strain on local resources and infrastructure.  The evacuations would likely be more pronounced to the north and south and less so over the Appalachian Mountains because of the quantity of major highway systems up and down the coast.  The I-79 Technology Park is located approximately 225 miles east from D.C. just over the mountain chain.
The physical location of the I-79 Technology Park is only one component that makes it "prime."  Recent infrastructure enhancements have taken the I-79 Technology Park to truly world-class levels.  In 2011 and 2012, tens of millions of dollars were spent to expand both the electrical and telecommunications systems in the park.  In collaboration with MonPower, a subsidiary of FirstEnergy Corporation, a brand new state-of-the-art electrical substation was constructed to support the power needs of the I-79 Technology Park.  The substation was designed to not only provide substantial electrical capability (immediately), but also to rapidly expand to power needs in the future.  This capability is further enhanced by the presence of the state-of-the-art MonPower headquarters and operations center constructed by FirstEnergy in the I-79 Technology Park.
This amazing electrical infrastructure is only rivaled by the I-79 Technology Park's telecommunications infrastructure.  In 2011, the park was expanded to include a gigabit speed communications infrastructure effectively making it a "GigaPoP" for Internet access.  One of the anchor tenants of the park, namely, the NOAA Environmental Security Computing Center (NESCC) had an ongoing requirement to transmit massive amounts of data and information around the world.  In addition to the gigabit speed infrastructure, operational connections were established with the country's most advanced gigabit network, namely, Internet 2 Network, to help facilitate these collaborations. In addition, the park is an official node on NOAA's 10GB N-Wave science network.  Expansion of the telecommunications infrastructure is scheduled to continue as part of NOAA's Geostationary Operational Environmental Satellite – R Series (GOES-R) program and the Joint Polar Satellite System (JPSS) program.
Electrical and telecommunications capacity are perhaps two of the most important infrastructure components for today's businesses, but classical infrastructure, i.e., roads, water and sewer, are still critical.  The first two phases of the I-79 Technology Park have been constructed with both road and water/sewer infrastructure to meet any possible business need.  Efforts are underway to begin enhancement of these systems and expansion into phases three and four.