by John Mark Shaver FAIRMONT NEWS EDITOR Sep 22, 2021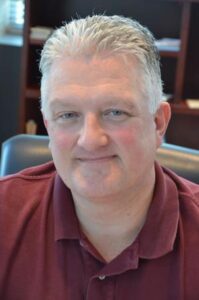 FAIRMONT — With Phase III of the I-79 High Technology Park still in development, park officials are hoping to secure some funding through the $3 billion made available to entities in the country via the American Rescue Plan Act and the United States Economic Development Administration.
High Technology Foundation President and CEO Jim Estep said Phase III of the park's development, which will open up more space to recruit federal anchors and other entities, began a couple of years ago, but in order to continue the development, more money is needed.
That's where potential funding from the American Rescue Plan Act comes in.
"Once we finished the initial road segment into Phase III, we started making plans for the next part of the road expansion, and we've been working on that," Estep said. "Back in July, when the U.S. Economic Administration announced the availability of a huge $3 billion package, we decide to accelerate things, and we quickly started developing plans for really most of the road development. …
"We didn't anticipate that we'd be able to get the funding to do it all at once, but since then, we started putting the plans together for the whole thing. Last week, we got our first iteration of those detailed plans, and our intention is to put together proposals to the various EDA programs to try to get funding to complete as much of it as we can."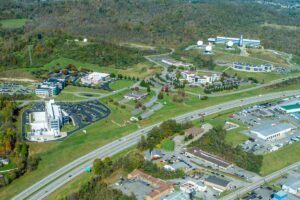 Although it's not known how much, if any, funding the foundation could get from the EDA, Estep said he's optimistic about the foundation's chances.
"There's no guarantee that we're going to have any luck, but I think there's a good chance," Estep said. "We've had good conversations with folks at the EDA about some of the opportunities, and they're very supportive, so I think there's a good chance that we could get funding."
One such opportunity is the expanding private climate weather industry and its potential place in the High Technology Park, something that Estep has been interested in for a while.
Earlier this year, Estep and the High Technology Foundation hosted a virtual event called "Beyond the Cloud," which focused on opportunities for companies to store or use weather data collected by NOAA, which already has an outpost at the park.
"Private companies take that data and do things with it and sell it, but anybody in that sector is going to tell you that getting access to that data and working with that data is pretty challenging," he said in March. "NOAA and the U.S. Commerce Department believe that they can make double from this private climate and weather sector if they created a way where people, and entrepreneurs especially, could get access to data much more easily."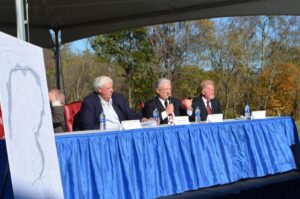 Now, Estep said that capitalizing on the private climate weather industry is more possible for the foundation — and the state — than ever before.
"One of the components of that (industry) is the strategic alliance that NOAA has with Amazon, Microsoft and Google," Estep said. "We have been in conversations with all three companies about bringing cloud computing data centers to the park. Quite candidly, one of the issues that we kept running into was a lack of renewable energy in West Virginia. It was pretty much a deal breaker, to be honest. …
"But, when the Legislature passed that bill back in March allowing for the building of solar farms in West Virginia, it really kind of helped mitigate that problem. Now, our emphasis has shifted to convince one or all three of these companies to bring their cloud computing data centers here that are going to be part of the alliance they have with NOAA."
Estep said this ties into the American Rescue Plan dollars because the High Technology Foundation wants to write proposals for funding that will help expand the telecommunications and electrical infrastructure of the I-79 High Technology Park so companies look at it as a powerful, competitive place.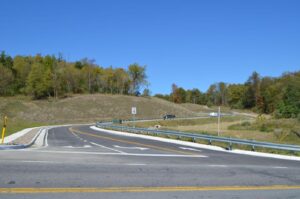 However, Estep said the I-79 park isn't the only location in the state that can benefit from this money, and he's actively working with another high tech park in the state under the belief that a rising tide lifts all ships.
"We've been collaborating with the West Virginia Regional Technology Park over the last couple of years, and that's been a really good collaboration," Estep said. "We're working on some joint efforts that I think are going to be potentially lucrative for the state, but in particular, the West Virginia Regional Technology Park is going to pursue their own proposals to this EDA money to do some infrastructure improvements at their park so that some of this climate weather opportunity can expand to the southern part of the state, which desperately needs it."
Estep said this is an exciting time for the High Technology Foundation, and he hopes that in the coming weeks and months, he's able to make big strides in securing funding and expanding the I-79 High Technology Park for new opportunities.
"I'm very optimistic and excited," Estep said. "There are great opportunities. Like everything else we do, it's not guaranteed or easy, but I'm feeling pretty good about it."
Article as originally published on WVNews.com, on September 22, 2021.