by John Mark Shaver FAIRMONT NEWS EDITOR May 7, 2021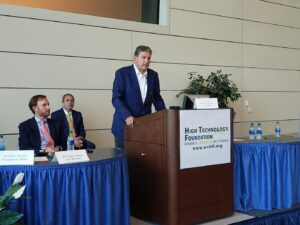 FAIRMONT, W.Va. (WV News) — The Marion County Chamber of Commerce held a 2021 legislative wrap-up Friday afternoon, giving U.S. Sen. Joe Manchin, D-W.Va., along with state lawmakers, a chance to speak about their work in Washington and Charleston.
Manchin discussed issues including unemployment benefits, D.C. statehood and the minimum wage.
"The biggest challenge we're having around the country and in the state is getting people back to work," Manchin said. "Everyone (should be) vaccinated, and it's their fault if they're not. … It's about having our state open back up and our country open back up, and it should not be for lack of workers."
He also spoke about the state of health care in West Virginia, and how he's pushing for more funding to go to rural areas.
"We had three hospitals close in the state in West Virginia, and that's ridiculous," Manchin said. "You're in a health-care crisis, and there are hospitals closing because of the model they use for (funding). All of the monies that should be coming down should have 20% offset for rural hospitals and rural anything. If you don't, what happens is scales of economy doesn't work for us."
Marion County's four representatives in the state Legislature also spoke at the wrap-up, including state Sen. Mike Caputo.
Caputo had his own piece to say about the unemployment issue.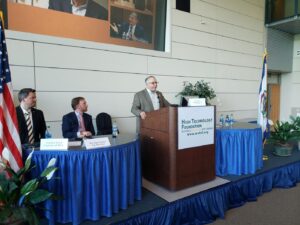 "Nobody that I know of wants to be on unemployment," Caputo said. "We all want to be working, but the pandemic has created a lot of situations for people that put them in dire traits financially, quite frankly. I'm supportive of an increase in unemployment, but I do believe that if there's a job available, then it's time to go back as long as we can do it safely."
Caputo also said one of the highlights of the 2021 West Virginia legislative session was the work that he and his fellow Marion County representatives were able to do to save the John Manchin Health Center, which other legislators proposed to close.
"It was certainly a highlight for our area," Caputo said. "We were certainly concerned about it. A bill came out of the House and it had a lot of horsepower. A lot of key players were sponsoring the bill. Thankfully, our colleagues in the House were able to squash it over there. I was putting a gameplan together with some of my colleagues across the aisle … and we were chatting on a regular basis in case it did make it out of the House."
The other three Marion County representatives, all in the House of Delegates, also championed the John Manchin Health Center, including Del. Joey Garcia.
"We had a number of different nursing homes facilities, including (those) in Mason County and in Preston County and in the Beckley area. What was impressive was that we immediately went to see for ourselves to see the facts. …
"(That health center) is so important."
Del. Guy Ward said he favored several passed bills during the session, including several pro-gun bills, including one that halted a sales tax on ammunition. He was also the lead sponsor on HB 3089, a bill that made utility workers essential workers during a state of emergency. He said this bill's passing was one of his top accomplishments of the session.
"It was a good bill," Ward said. "The governor had to make an executive order to allow them to work during the pandemic, and we said that it shouldn't have to be that way. Anytime there's a state of emergency, we should be able to keep them working. … Now, if we have another state of emergency declared by the governor, they can just keep on working. They don't have to stop."
Del. Phil Mallow, too, had good things to say about the session, and he believes that the House and State Senate passed several bills that will allow for increased business opportunities in the Mountain State.
"There were a lot of bills that were passed … that make it better and easier for businesses in West Virginia," Mallow said. "A lot of it had to do with licensing and old, outdated regulations and rules."
Fairmont News Editor John Mark Shaver can be reached at 304-844-8485 or [email protected].
Article as originally published by WVNEWS.com on May 7, 2021.