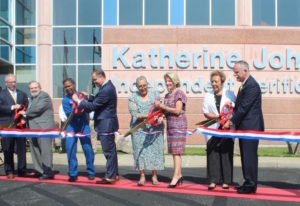 FAIRMONT — NASA's facility in Fairmont now bears the name of a pioneering African American and West Virginia native who was an instrumental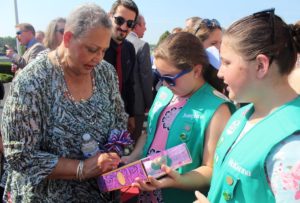 part of the U.S. space program.
The building housing NASA's Independent Verification & Validation program was officially renamed the Katherine Johnson Independent Verification & Validation Facility during a ribbon cutting
ceremony held Tuesday morning.
In addition to Sen. Shelley Moore Capito, R-W.Va, Rep. David McKinley, R-W.Va. and NASA administrator Jim Bridenstine, the ceremony was attended by two of Johnson's daughters, Joylette Hylick and Katherine Moore.
Johnson, who worked at NASA from 1953 to 1986 and was a member of the NASA team tasked with landing a man on the moon, was born in White Sulphur Springs in 1918.
She was responsible for calculating the trajectory for the first manned spaceflight undertaken by the United States in 1961 and went on to do the calculations required for the first moon landing in 1969.
Johnson received the Presidential Medal of Freedom in 2015 and was inducted into the Paul E. Garber First Flight Society Shrine in 2018 at the Wright Brothers National Memorial.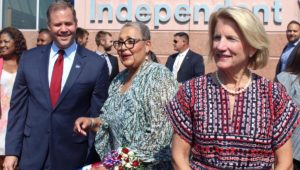 Alongside fellow female African American NASA pioneers Mary Jackson and Dorothy Vaughn, Johnson was the subject of the 2016 film "Hidden Figures."
Although Johnson, who is now age 100, was unable to attended Tuesday's ceremony, Moore said her mother was present in sprit.
"We are channeling her right now because if she could have she would have been here," Moore said. "We are able to share with the grandchildren and the great-grandchildren, and it's just an awesome feeling to know that women like Mom, and there are lots of them, have been recognized for their work and quality of work."
Hylick was overcome with emotion when speaking about her mother's career and accomplishments.
"When I came up the hill this morning it just took my breath away because I never believed that this could happen," she said. "We're just glad she's still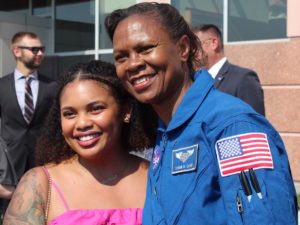 her to know about it."
Capito, West Virginia's first female congressional representative, said she hopes Johnson's story inspires young women to consider pursuing careers in the STEM fields.
"Katherine Johnson is a legacy icon for West Virginia with her incredible STEM work, so it's great be out here to rename this facility in her
honor," she said. "When I see young girls here, I think about how inspirational she is in terms of the future. These kind of aspirations and dreams are what I think West Virginia girls want to hear all the time, and they can see that it's been done with Katherine Johnson and it's being done today."
Dr. Yvonne Cagle, a former NASA astronaut and current NASA manager, said Johnson is a personal role model and hero to her.
"It's so historic for me. This is giving voice to the vacuum of space, so that people know that not only is there so much out there to learn and discover but that there is space for all," she said. "Dr. Katherine Johnson said that you don't have to just dream, you can do the math, too. That's what really takes it off-planet. I'm really honored to be here today, and I wouldn't have missed it for the world, or the multi-verse."
Senior Staff Writer Charles Young can be reached at 304-626-1447 or [email protected]